Welcome to PeaceLight.org
Thank you everyone for making Peace Light 2014 so successful. As of 12/31/14 the Facebook Peace Light - North America group has 400 members, 122 locations appear on the distribution map and 298 locations appear on the tracking map. The Peace Light was carried North to Winnipeg Canada, North West to Seattle, South West to LA, and South to Parras Mexico.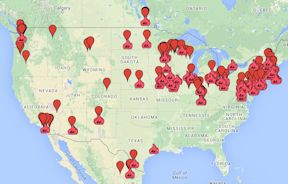 If you have any additional pictures you would like posted or locations added to the tracking map please send them to peacelight@peacelight.org . I hope you all have a great new year and I look forward to doing this all again in 2015
Welcome to PeaceLight.org a web site dedicated to spreading the continuous flame Peace Light from Bethlehem across the North American continent. We are happy to report that our friends at Austrian Air http://www.austrian.com/ are bringing the Peace Light from Bethlehem to Vienna for a 29th time, New York for the 13th time on December 11th, 2014 and for the third time to Toronto, Canada on Tuesday, December 2, 2014.
If you want to find out if the Peace Light will be available in your area, please consult the distribution map on the Maps page. If your area does not have a Peace Light distribution listed, we encourage you to retrieve the Peace Light from the closest distribution and set up your own distribution. Please e-mail us at peacelight@peacelight.org with your distribution date, time and location so we can add it to the map.
A job description for the Peace Light Coordinator can be found here: Peace Light Coordinator .
If you have any questions or suggestions feel free to contact us at peacelight@peacelight.org